Blog post by Nick Walshe, Orchestras Canada
Last month, I attended the Canadian Opera Company's (COC) second Digital Stage Symposium. The Digital Stage is a collaborative project between the COC, the National Ballet of Canada, and Sheridan College's Screen Industries Research and Training Centre, and is supported by the Canada Council for the Arts. It is designed to explore and embrace new technology in the arts, equipping arts organizations with what they need to thrive in a constantly changing digital landscape. From apps designed to help audience members engage with the works presented at a concert (last year we wrote about the Winnipeg Symphony's adventures with an audience engagement app), to 'smart' wearable items designed to help performers and artists monitor their bodies, the Symposium presented a wide range of cutting-edge digital technology. More information on these technologies and others can be found in their initial Digital Horizon Scan.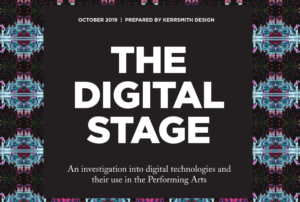 Unsurprisingly, there was no single technology that stood out as a game-changer for orchestras. The question of how we engage with our audience digitally or live is complex, and only complicated further by the wide range of sizes of Canadian orchestras and the diversity of the communities they serve. I came away from the day with more questions than answers and felt that rather than providing a list of new technology to explore, it could be more useful to share a list of questions I kept coming back to when looking at how orchestras might engage more deeply with digital technology. This non-exhaustive list of four questions is designed to spark discussion and thought before starting any digital project.
What problem are you trying to solve by undertaking this project?
As they say, "every solution has a problem". It's important to look at what problems we're trying to solve with technology, and what other solutions may exist to the same problem. Our audiences can feel when the use of tech becomes 'gimmicky'. Considering how stretched resources are at arts organizations, it's important that our investment in technology aligns with our organization's goals. Are we trying to educate the audience? Increase audience numbers? Deepen their engagement by livestreaming or creating ways for them to participate digitally?
Has it been done before, and did it work?
While Canadian orchestras operate in diverse communities with different tastes, strengths and demographics, there's no need to reinvent the wheel with every digital project. It's worth exploring who is using the new technology being considered and seeing what they learned from implementing it. These examples may not come from the orchestra world; we have much to learn from other art forms' use of digital technology, from dance to theatre to visual arts.
What does this do to the live product?
Or perhaps, what IS the live product? Every exploration into the digital realm has the potential to make us more aware of the live product we present. We often talk about the live experience as one of the most important aspects of what we do as orchestras. Can we bring this experience to more people? Do the forms of digital technology we plan to use enhance or detract from the experience of our live audience? In a digitally connected world, it's important that we acknowledge online forms of engagement for people that are unable to get to the concert hall for a variety of reasons.
What resources are we lacking in order to get there?
With many arts organizations running at (and pushing) the limit of which they are capable, it's important to have a plan to bridge any knowledge or resources gaps. Issues of time, money and the knowledge of people within the organization are critical. Is an outside consultant needed, and how much of their time can we afford? Are there additional funding streams we can apply to for this project?
These questions are designed as a starting point for discussion before embarking on a digital project; there will no doubt be other important conversations to be had. We're excited at the possibilities that new technology will bring to the orchestral sector and the arts world, but acknowledge that this is fast-moving and requires a smart investment of time and resources from decision-makers at our orchestras.
The Canadian Opera Company's Digital Stage project is ongoing and scheduled for completion in June 2020. Learn more at https://coc.ca/digitalstage.