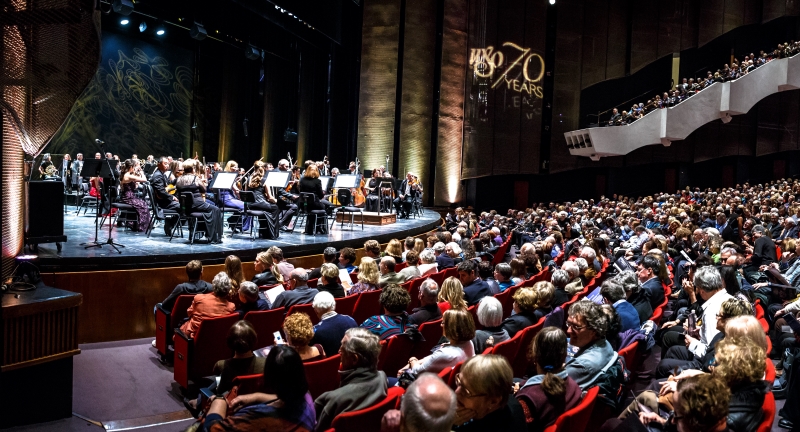 As a way of opening up their concert halls to a greater number of people in their communities, several Canadian orchestras have produced Relaxed Performances. Last year, we shared resources from the Toronto Symphony Orchestra's Let's Dance concert. On November 1st, the Winnipeg Symphony Orchestra (WSO) produced their first relaxed performance, as part of a matinee concert series. This 'blended' concert was designed to be performed for two audiences at the same time: the WSO's regular matinee audience, and to new concertgoers seeking a less exigent, more relaxed concert experience.
What is a relaxed performance?
A relaxed performance is designed specifically for audiences who would benefit from a more relaxed sensory experience at a concert. They might include parents with babies and toddlers, people on the autism spectrum, or people with sensory communication disorders or learning disabilities.
Usually these concerts are added as a special event to an orchestra's activities, but the WSO decided instead to adapt an already-scheduled concert. The education team started working on this in Spring 2019, and took advantage of partnerships they already had in the community. These partnerships proved valuable in providing an experience that was accessible to as many people as possible. Most significantly, the concert environment was supported by volunteers experienced with sensory-friendly events and environments, students and faculty from the music therapy program at Canadian Mennonite University, and faculty from Prelude Music, a music studio specializing in musical instruction for neuro-diverse individuals and those with sensory challenges.
Getting Ready
Preparing for this concert was more complex than usual. The team at the WSO created two new documents to help prepare people attending: a pre-visit guide, and a concert experience guide. These documents were created by and in consultation with individuals who were close to the WSO, and have worked with or been a caregiver for someone on the spectrum. Through the pre-visit guide, potential audience members are walked through what to expect from transportation to the venue until arrival at one's seat. The concert experience guide prepares people for what to expect during the concert itself, and lists some of the amenities available to them, including fidget objects, colouring activities and reserved spaces for a more or less intense experience (at the very front or back of the hall).
The WSO offered free tickets to select community groups through their Share the Music program, but the majority of tickets were purchased as for a usual matinee performance.
Regular matinee subscribers received an email and a physical mailing, to inform them that this concert would be different to their usual matinee experience. WSO staff also briefed the guest conductor and musicians before the first rehearsal for the relaxed concert.
According to Education & Community Engagement Manager, Brent Johnson, anticipation was high leading up to the concert. How would regular patrons react? Would people find the relaxed element of the concert welcoming? Was this concert too different from the usual experience?  Not different enough?
Concert Day
"As soon as the doors opened, there was a different feeling in the air," Johnson said.  For the approximately 600 audience members, there was a real excitement that this concert was bringing new people to the symphony who may have experienced barriers in accessing this music before.
Volunteers were critical to the success of the event. Faculty and students from Canadian Mennonite University and volunteers with appropriate experience from the Royal Manitoba Theatre were on the ground to help people find what they needed. There was no self-identification by people who were there specifically for the relaxed elements of the concert. With many spare spaces in the hall, and reserved seating right at the front and back, audience members were encouraged to move around as required, and to respond to the music as they would like (clapping, moving or vocalizing for example). A separate quiet room was provided upstairs, with fidget objects, activity books and weighted blankets for those who chose to use them. The house lights were also brought up to half throughout the performance.
Next Steps
The process of producing this concert allowed the WSO team to investigate what is and isn't working for patrons in their venue. They identified a handful of things that might be creating barriers for anyone attending concerts. For instance, the WSO is planning to expand the FAQ and accessibility information on their website and in pre- to ensure that all patrons feel welcome, ready and excited to be at the symphony!
Given the WSO's intense schedule, the WSO team plans to continue to refine the 'adapted' concert model. The pilot version of this model was highly successful, and with careful concert selection, the WSO will offer three relaxed concerts in 2020-21. To access the resources from November's concert, follow the links below.
The Winnipeg Symphony Orchestra presents its next relaxed concert at a February 21st matinee: Hétu & Franck. Learn more about their relaxed concert series on their website.