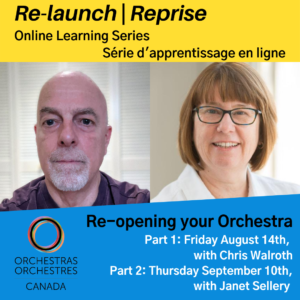 On August 14, 2020, OC presented the first of two webinars as part of the Re-launch online learning series designed to equip orchestras with the information and ideas they need for a safe and successful return to activity.
Session description: COVID-19 seems to have turned orchestral music-making into a high risk activity.  As orchestras reopen, old routines and procedures need to be revised to keep musicians and audiences safe.  This webinar focuses on the most promising evolving practices for orchestras from a practical standpoint, and examines the steps necessary to keep everyone safe. Led by Chris Walroth, Production Manager of the Toronto Symphony Orchestra.
Presentation slides: Reopening Your Orchestra Chris Walroth – Slides
Bibliography: Reopening Your Orchestra Chris Walroth – Bibliography
A summary and audiofile will be posted soon.