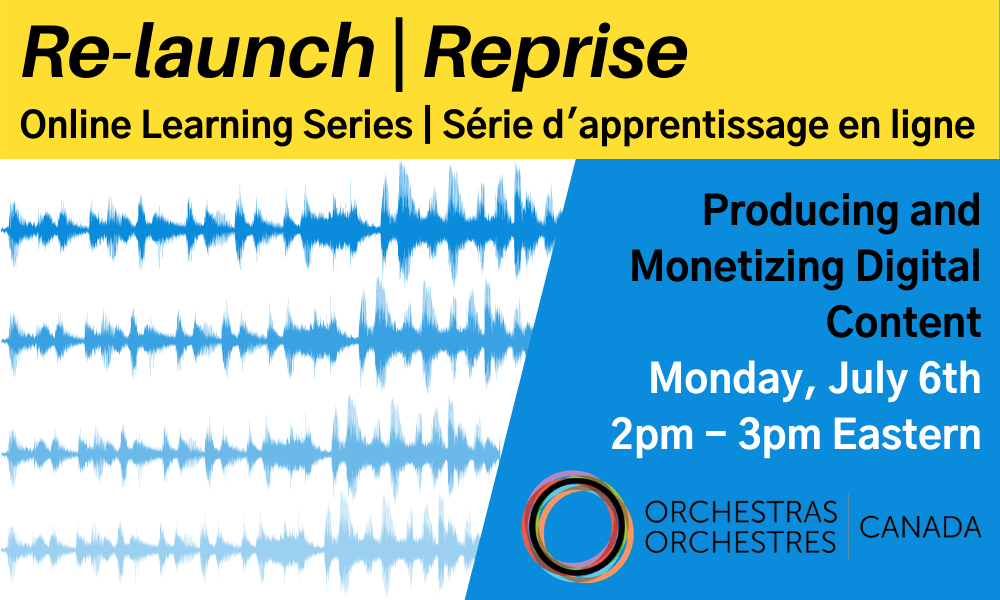 Producing & Monetizing Digital Content
In this digital "new normal," how can orchestras monetize online performances to offer innovative programming while recreating the exclusivity and intimacy our patrons value in our concert hall performances? On July 6th, OC welcomed Lana Leprich (Tafelmusik Baroque Orchestra), Neil Middleton (Vancouver Symphony Orchestra), and Tricia Baldwin (Isabel Bader Centre for the Performing Arts) to share their experiences, advice, and the future they see for monetizing online content.
Read on for a few key learnings from this session:
1. Collaborate!
Tricia emphasized the importance of collaboration to expand market access and ensure that artists are paid for their services, especially for smaller organizations and smaller population centres. Partnering with fellow arts organizations, festivals, ensembles, and more helps to pool resources for artist fees, in addition to combining audiences for greater impact.
You can also forge unlikely partnerships to incentivize ticket purchases – such as Tafelmusik's partnership with a gelato company, offering a treat to enjoy with tickets to their digital events!
2. Where possible, create live or time-restricted events
Lana and Neil emphasized the importance of offering live or time-restricted events as part of selling an experience to potential ticket buyers. This can take the form of a true livestream performance, with musicians playing in real time. If the technical issues stress you out, though, you can pre-record performances to broadcast at a designated time (as Tafelmusik did for their Tafelmusik at Home series).
Tricia highlighted their success in engaging audiences, with the ability to ask questions and react in real time, either via social media tools or through a live Q&A with the performers.
3. Create for the medium, and take sound quality as seriously as your in-person performances
Tricia offered tips on creating high quality digital content that patrons will want to pay for: 1) High-fidelity sound, with particular attention to excellent source sound, 2) Varying camera angles throughout the performance to keep audiences captivated, and 3) Brighter lighting compared to live performances for better appearance on camera.
For their Bader and Overton Canadian Cello Competition, the Isabel Bader Centre provided a guide to performers for setting up high quality live recording technology in their homes. See the guide here.
4. Test, test, test! Prepare to handle technical difficulties
It is important to test your digital performance on the source and viewer side. Lana recommended testing on a variety of devices – smartphones, computers, tablets, smart TVs, etc – to ensure your content looks and sounds the way you want. All recommended having enough staff support at show time, monitoring and addressing any issues at their source, providing technical support to viewers if needed, and moderating chat and comments.
5. Your digital content may reach audiences beyond where you'd expect
Originally, the Vancouver Symphony predicted that the audience for their Digital Concert Hall would exist predominantly among their existing subscriber base. However, Neil and the VSO found that the audience demographics for their digital performances have gone far beyond typical expectations. He sees digital as an opportunity to reach audiences who would not otherwise travel into the city for a typical concert.
Similarly, Lana remarked that Tafelmusik's post-concert surveys revealed that 35% of their Tafelmusik at Home patrons were new to Tafelmusik.
6. Different monetization models – Experiment!
There are many ways to approach monetization, and experimentation can help inform your efforts going forward. You may encourage a donation, require purchase of a ticket to access, or some combination of the two – e.g. a virtual "ticket" using a Pay-What-You-Choose model. Tafelmusik used the PWYC model to "test the waters" of digital content monetization – they found that, with options ranging from $5 to $20, the average donation per virtual concert ticket was a solid $13. They will use this data to inform future digital content monetization initiatives.