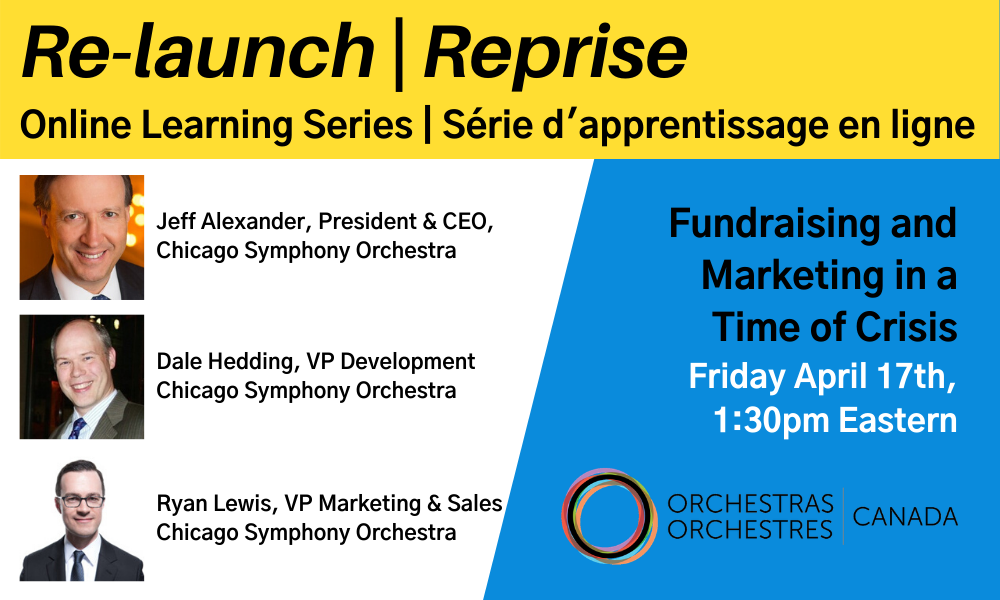 Fundraising and Marketing in a Time of Crisis
On April 17th, Orchestras Canada hosted a panel discussion with senior members of the Chicago Symphony Orchestra's staff team: Jeff Alexander (President & CEO), Dale Hedding (VP Development) and Ryan Lewis (VP Marketing & Sales). We recommend listening to the recording of the event, as it's packed full of useful fundraising and marketing approaches, for all times, but particularly for during the current crisis. We picked out five (plus one bonus) tips from the discussion to share.
1. "Never say no for the donor"
Dale spoke about how to approach fundraising for arts organizations at a time when there is such a strong need for support in the health sector. He spoke of the strong advocates that are working to support the sick, hungry and unemployed, and says that we need to be these advocates for our organizations. "If we can't get people fired up and excited about what we do, who else will?" says Dale. We believe that the arts matter now more than ever, so we shouldn't say "no" on a donor's behalf. There are donors out there who particularly love to step up and be a hero during a crisis – it's important to engage them and communicate clearly how their support will sustain the organization.
2. Tailor your communications to different stakeholder groups
Ryan talked about how important it is to ensure frequent communication with different stakeholders. This includes orchestra musicians, your board of directors, donors and volunteers, among others. Communications will need to be tailored to meet the needs of these different groups, and the platforms through which you engage them. The CSO is using tools like Zoom and Microsoft Teams for 'live' internal communication, and have been keeping in touch with patrons through email, regular mail, phone calls, and social media.
3. Marketers are fundraisers, fundraisers are marketers
Now more than ever a siloed approach from development and marketing departments is detrimental to an organization's goals. It is important to ensure frequent cross-department/staff communication and collaboration on projects and messaging. Both fundraisers and marketers need to contribute to getting the right message in the right patron's hands at the right time. "We don't think about people as ticket buyers versus donors. They are our patrons, and we all have to manage that relationship and work together," says Ryan.
4. Check in with your public and stay in touch with your audience on all channels
As the situation evolves quickly, so does people's bandwidth for engaging with their local arts organizations. Dale spoke about frequently "taking the temperature" of their patrons. Donors are far more willing to re-engage now than they were at the beginning of the crisis in early March. With people's perceptions, moods and personal resources being impacted at different rates, it's important to stay in touch and to listen to what your audience is telling you. Use your social media and other points of contact with the public to inform future fundraising and sales approaches.
5. Get buy-in from your musicians on digital content
Ryan talked about the digital content working group they've formed, which is doing great work in having a diverse array of perspectives heard in producing digital content. At the CSO this group is includes musicians, marketing/PR staff and the technical team producing the work. They sent an invitation to their musicians to submit ideas and content to the group, with the caveat that not all content would be posted everywhere. They also sent tips to their musicians about best practices on filming themselves at home.
Bonus: Your public wants more of you
We often worry about inundating our audiences with information, taking up too much space in their inboxes or social media feeds. Dale and Ryan talked about how their audiences are engaging with the CSO at a higher rate than ever before, and they want more! With many people at home all day, the CSO team is finding a substantial increase in their email open and click rates and social media metrics. They're hearing back from people that "they've seen every cat video, every virtual concert, and every Q & A video. And they want more." It can be hard to push through an overcrowded online space right now, but it seems that people are still very much valuing the connections they find with their local orchestra.