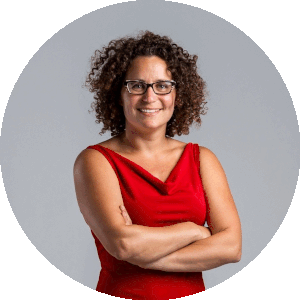 Nina Simon
Executive Director, Santa Cruz Museum of Art and History, and Founder, OF/BY/FOR ALL movement.
Nina Simon has been called a "museum visionary" by Smithsonian Magazine, a Silicon Valley Business Journal "40 under 40," and Santa Cruz County Woman of the Year for her innovative community leadership. She is the Executive Director of the Santa Cruz Museum of Art & History and the founder of the OF/BY/FOR ALL movement. Nina is the best-selling author of The Participatory Museum (2010), The Art of Relevance (2016) and the popular Museum 2.0 blog. She lives off the grid in the Santa Cruz mountains with 20 people, 24 chickens, 5 dogs, and 1 zipline.
Nina will be giving the conference's closing keynote presentation and leading a workshop on Friday, June 14th. Nina will focus on the risks and rewards of engaging our communities more closely with our institutions, and will introduce Of/By/For All, a new "global movement and a set of tools to help your organization become of, by, and for your community." She will explore the communities you currently serve and those you wish to involve and give take-home tools you can use to talk with your board and colleagues about new opportunities for community involvement that can strengthen your organization's impact.