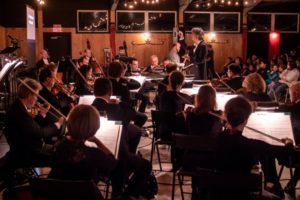 In September 2018, the Orchestre symphonique de Montréal (OSM) and Music Director Kent Nagano toured to Indigenous communities across Northern Quebec. The featured work on this tour was a new chamber opera entitled Chaakapesh, the Trickster's Quest.
The opera tells the story of Chaakapesh, a trickster who sets out to stop the massacre of his people by white settlers through teaching these settlers to laugh. The OSM engaged renowned Cree writer Tomson Highway as librettist, and Matthew Ricketts, a young Canadian living in New York, as composer. The work features narrators in one of five languages (Cree, Innu, Inuktitut, French or English, depending on the place of performance), and two singers to tell this story of the founder of the Innu people. Funded in part by a New Chapter grant from the Canada Council for the Arts, the collaboration began with discussions in 2016 and culminated two years later with the tour. 45 OSM musicians participated in this tour, marking the first time in ten years that the orchestra has visited Nunavik, and the first time ever in Cree and Innu territory.
Film-makers Roger Frappier and Justin Kingsley created a documentary about the multiplicity of collaborations brought about from this project, also titled Chaakapesh. The documentary, which premiered in Montreal in December 2019, includes extended sequences of performances, rehearsals, and interviews with people involved in the project, including the creative team, Maestro Nagano, the narrators and singers who performed the work, and OSM staff and musicians.
Indigenous Voices and Indigenous Performers
"There's a difference between sharing and stealing"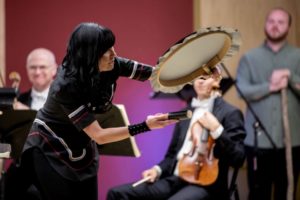 Chaakapesh gives significant space to Indigenous voices and performers. With the opera translated into five different languages, different narrators are needed for each performance. In the documentary, each of the Indigenous narrators gets extended interview time to delve deep into their experiences as artists and people, inside and outside of this specific collaboration.
We also see Indigenous community members throughout the creation and rehearsal process, involved in conversations and making creative decisions. The collaborative aspect of this project continues into the tour itself, where we see a range of Indigenous performers on stage, including an advanced local cello student playing a Bach suite, a traditional fiddler and throat singers. Their performances were built into the opera, and were different at each presentation depending on which musicians the OSM had access to in each community. As Cree narrator Ernest Webb says, "there's a difference between sharing and stealing". In Chaakapesh, we see the OSM sharing the stage with Indigenous performers and sharing the rehearsal process with Indigenous artists.
Stories and Language
"So that our children can inherit something other than prejudice"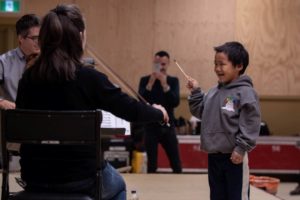 There is a strong story-telling element to many of the interviews in the documentary. Innu narrator Florent Vollant speaks of being taken from his home in Labrador to a residential school when he was only five years old. Inuktitut narrator Akinisie Sivuarapik reminds us that tuberculosis is still present in some Indigenous communities. Though there is a hopefulness to Chaakapesh, the film also reminds us that these stories of trauma are not problems of the past, but issues that are still very present to this day.
Language takes pride of place in both the opera and the documentary. The fact that the opera is presented in no fewer than three Indigenous languages is testament to this. The geography of this project is also significant: in a province where the struggle between French and English can be so strongly felt and politicized, it is easy to forget that there are a number of languages that existed here long before either of Canada's official languages.
What now?
This project is an important step in furthering collaborative partnerships between arts organizations and Indigenous communities. It was an enormous, successful, very public collaboration, but the real test of this kind work is what sort of ongoing partnerships can be made between these groups. Sustained funding is needed to help orchestras and other arts organizations create meaningful, lasting partnerships that are beneficial to Indigenous communities and enable these communities to celebrate their own art forms, cultural experiences and traditions.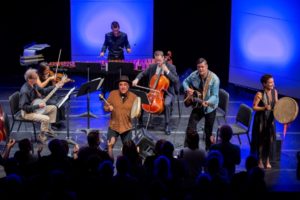 This project was life-changing for the OSM as well. Head of Special Artistic Projects, Marc Wieser, says, "This project was a watershed moment for the OSM in collaboration with Indigenous artists and communities. All genuine relationships begin with trust, and Chaakapesh was a catalyst that has allowed us to build relationships with a growing network of Indigenous artists in Montreal and Quebec. As an organization we learned the value of taking artistic risks and of stepping outside of our comfort zone. We have since collaborated with several of the same artists, among others, and found we were able to go straight to the music, having already established terms of mutual trust. In summer 2019 we produced a concert called Makusham, in which three OSM musicians paired with three Indigenous singer-songwriters and an arranger to collaboratively create a concert where the Indigenous musicians took the artistic lead. The concert was a huge success, and it would have been unimaginable without all the "footwork" of Chaakapesh to back it up. We now feel welcomed and well-perceived by many Indigenous communities, and have the opportunity to build on our experience and continue our collaborations."
Chaakapesh doesn't claim to have all the answers for reconciliation between colonizer and colonized, Indigenous and settler communities. As Florent Vollant mentions during one of his documentary interviews, it will take several generations of hard work, sustained partnerships, and thoughtful collaboration to move these conversations forward. This is an important step.
Upcoming screenings, and short clips from the Chaakapesh documentary can be found on the OSM website.
The Opera Chaakapesh will be staged again as part of the OSM's Classical Spree Festival in August 2020. Tickets on sale from February.