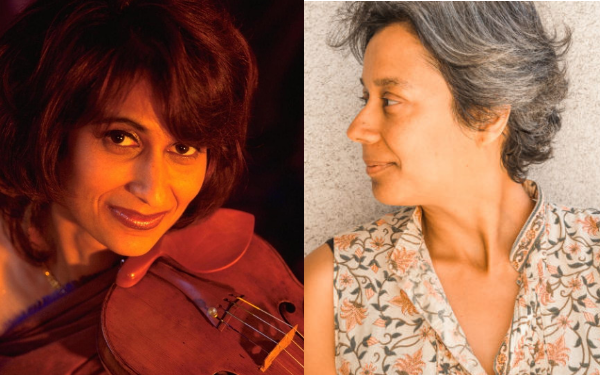 The Middle Space: Cultivating Equity and Diversity in Canadian Orchestras
As part of our 2018 National Conference, Ethnomusicologist Parmela Attariwala and equity arts consultant Soraya Peerbaye presented the findings of their research, conducted on behalf of Orchestras Canada and supported by the Leadership for Change grant program, on Inclusivity, Diversity, Equity and Accessibility in the orchestral sector.
You can find a recording of this presentation here.
The accompanying slides can be found here
The following interview with Soraya and Parmela was originally published on May 25th, 2018.
Inclusion, Diversity, Equity and Accessibility with Soraya Peerbaye and Parmela Attariwala
Inclusion, Diversity, Equity and Accessibility are perhaps not words traditionally associated with the classical music institution, but they are integral to corporate, political and Canadian culture. As part of our upcoming national conference, Orchestras Canada will be hosting Soraya Peerbaye and Parmela Attariwala who will lead two sessions on these subjects and will be sharing the research they have been doing for us. Soraya is a Toronto-based writer, curator and consultant who focuses on equity and diversity in the arts. Parmela is also based in Toronto, and is a violinist/violist, composer and ethnomusicologist with research interests in areas as varied as multiculturalism and democracy in music, improvisation, and the music of medieval India. We had the pleasure of speaking with them last week, to talk about decolonization in the arts and where Canadian orchestras are in terms of conversations about inclusivity, diversity, equity and accessibility.
Parmela and Soraya started their research with a series of questions, the purpose of which were to find out what orchestras are currently doing in the field of inclusivity, diversity, equity and accessibility; to find out what is currently working and what is not, and to find areas where Canadian orchestras need help, and how Orchestras Canada might be able to provide this.
The list of questions involved in this project grew almost immediately. Soraya says, "It didn't take very long for us to ask about the conversation that is so current in the arts sector around decolonization. What are the implications of that word politically and culturally? What are the possibilities of that in relation to an art form that emerged out of white European cultural traditions?" From these new sets of questions, they wanted to map some of the conversations happening on these subjects in the orchestral sector, and saw that these were the same as those happening in other art forms.
Soraya and Parmela met with key stakeholders in the orchestral sector, largely Executive and Artistic Directors, to talk about the ways in which their organizations engage with these ideas. "We quickly realized that because of who comes into this art form, and who rises to positions of authority within it, we were still speaking primarily to white artists and practitioners," Soraya says, "We hosted a number of round tables with Indigenous artists, creators and musicians…to give space for a richer dreaming. I'm a little hesitant to use these words, but this idea of a wider frame is very important for me. To move towards something, we need to envision it. We wanted to know not only what is happening, but also what we're working towards."
As highly active artists themselves, Soraya and Parmela have the fortune of being able to look at recurring problems within their art forms from dual perspectives as both outsiders and insiders. "I've been critiquing the institution of the orchestra since I became an ethnomusicologist."  Parmela says, "I've continually brought a culturally reflective lens to my workplace." This ability to look holistically at the orchestra as an institution has allowed them to engage differently with the way that we speak about orchestras and orchestral music. Parmela explains, "For example, the notion of conceiving of orchestras or Beethoven or a symphony score as great has become mythologized. However, if one looks contextually at the early 18th century, it's all part of a continuum. Beethoven happened to be in the right place at the right time. Unlike those who came before him, he was able to choose self-employment rather than a church or a court gig, which allowed him to be compositionally self-determined. Being in Vienna, he had access to a large pool of musicians as well as a sonic formula for how to use them crafted by his predecessors; and critically, he could avail himself of the beginnings of a paying, listening audience."
This is prevalent in other art forms too. From literature to films to dance, what is defined as great (and by whom) is, now more than ever, being examined with a critical lens. These are difficult, but necessary conversations to have. "We use language in very specific coded ways that we don't really think about." Soraya explains, "Equity work is all about surfacing the assumptions within the language that we use. In literature we talk about the canon, and that's deeply connected to orchestras in terms of the notion of repertoire. What is universal, and who speaks for what is universal…It's exciting in a way to map out those connections, and to decipher the core assumptions we make in terms of how we see our culture and what language we use to describe this."
While this is an extensive study into the current state of affairs in Canadian orchestras, it is not intended as a recommendation of best practices or a tool kit for approaching these issues. Soraya says that the study is rather an "acknowledgment that we're in a cultural moment where there is a vast spectrum of conversations and learnings going on." The scope of their research is large, notes Parmela, "Canada is an extraordinarily vast geographical space. There are significant differences between Anglophone and Francophone Canada and places where there are different levels of separation or integration between Indigenous people and settlers." Soraya and Parmela's presentation at Orchestras Canada's National Conference is intended to be a continuation of this conversation, with space for feedback and added perspectives from conference participants who were not part of the formal study. They will give a presentation of their research on the morning of May 31st, and will meet that afternoon with smaller groups of delegates to discuss the implications of their observations.
In terms of next steps from this research, Soraya notes that perhaps a change of approach is what is needed the most. "It's what we hear from every other sector. It's not about incremental change, it's about trying to transform the conversation that you're having at the heart of culture."