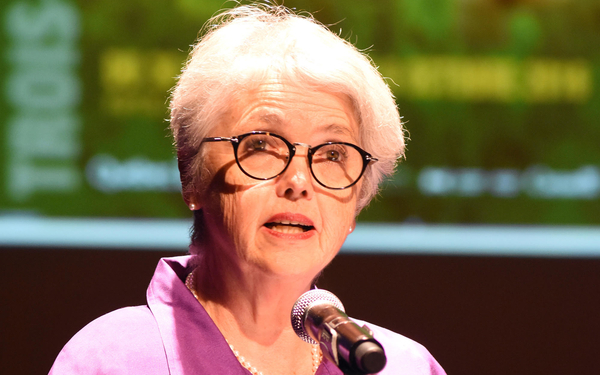 Lessons from the First Canada Council Engage and Sustain Results
During our 2018 National Conference, OC consultant Thérèse Boutin presented two sessions that looked into the results of orchestras from the Canada Council for the Arts' Engage and Sustain funding program. The slide deck from this presentation is available here.
The following interview with Thérèse was originally published on May 18th, 2018 in anticipation of her sessions at the conference.
Thérèse Boutin and the Engage and Sustain Program
As part of our 2018 conference in Calgary, Orchestras Canada will be welcoming experts and thought leaders from musical and arts organizations across the country. Many of these, are current or former leaders of Canadian orchestras, including the delightful Thérèse Boutin. Thérèse has served as administrative leader of both the Orchestre symphonique de Trois-Rivières and the Orchestre symphonique de Québec, and was also Chair of the Orchestras Canada Board for two years.
Thérèse's impressive resume and experience have given her significant insider information into the workings of national granting organizations, and it is in this area that she is currently doing research for Orchestras Canada, specifically with regards to the Canada Council's Engage and Sustain grant.
This grant program is designed as a means of ongoing support for arts organizations in their presentation of artistic activities that engage a diverse range of people in their communities and beyond. It also aims to encourage organizations to reflect the diversity of these communities through their staffing, programming and public engagement responsibilities.
We recently had the opportunity to learn more about Thérèse's research, during which she has spent a significant amount of time analysing grant applications from orchestras across the country to better understand what the Canada Council's peer assessment committees were looking for.
Could you tell us a bit about the research you are currently undertaking for Orchestras Canada on the Canada Council's Engage and Sustain program?
We put a call out for orchestras who wanted to be involved in this study on a voluntary basis to send us a copy of their Engage and Sustain grant application. Fifteen orchestras agreed to participate: ten in the Catalyst category (orchestras with a budget of less than $2 million), and five in the Institution category (orchestras with a budget of more that $2 million). From this cross-section, we had a wide variety of applications to analyse.
Did you notice any particular differences or trends between the different grant applications that you received?
I haven't yet completely finished, but I have been able to figure out some trends – less in terms of what orchestras need to do, and more in terms of how orchestras interpreted the application form and questions. That's what I found to be the most interesting – the Canada Council for the Arts form is the same for everyone, but each orchestra interpreted the questions in a different way. This isn't to say that their responses weren't well thought out, but rather that there were no two grant applications that looked the same.
And what happened in terms of the results of these applications?
Each orchestra was successful in their application, but there were some who received increased funding, and others who did not. My goal isn't to lecture those who didn't get increased funding this year. Rather, I wanted to see if each orchestra expressed their message clearly, and if they were effective in bringing this to the forefront of their application. I also wanted to see if there was anything else they might have included, or ideas that they could have presented in other ways. This study is designed to collate a series of best practices for grant applications and to shed light on some of the "red flags" that orchestras might want to address. I'm working with a wealth of extraordinary information that I could do so much with, but unfortunately I only have an hour for my workshop!
Are you analysing applications from this year only, or from previous submissions as well?
The Catalyst orchestras sent me their applications for this year, and the next two years, while the Institution orchestras sent me their applications just for this year and next year. I don't have access to their older applications, so I can't comment on what people wrote in the past. However, I can certainly say that the Canada Council's expectations have greatly changed over this time. We are all a little resistant to change and I noticed that several orchestras (some more than others) managed to fall back into old habits in their applications. It happens – people have other demands on their time, and it can be difficult to prioritize in a busy workplace.
Do you have anything else to say about these applications? Or any advice to give to artists applying to these kinds of grants?
I found them to be very interesting – if I was lucky enough to be independently wealthy, I'd spend the whole of the next year travelling across the country to attend some of the projects mentioned. There are wonderful concerts and activities happening, but there is always room for improvement.
It hasn't been my goal to give advice from this study. Rather, the idea was to allow orchestras the opportunity to see places where they could have framed things in a different way; to see where they hadn't been clear enough, where they hadn't understood the thrust of the questions, or where they could have found a more original way to answer the questions they were given. I'm very happy and thankful for the orchestras who agreed to take part!