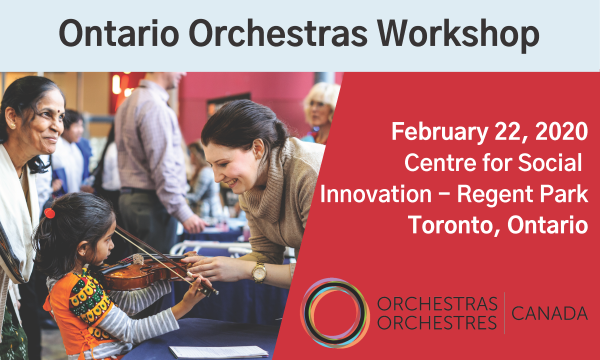 Date & Time: 10am – 4:30pm, Saturday, February 22nd, 2020
Venue: Centre for Social Innovation – Regent Park, 3rd Floor, 585 Dundas St East, Toronto, ON.
Cost: $25+HST (OC Members/Associates), $35+HST (non-Members/Associates)
Join us for a day of discussion, peer exchange, and training, at the Centre for Social Innovation in Toronto's Regent Park. This event is a full-day program specifically designed for music directors, management and board members at Ontario's smaller budget orchestras.
In the morning, we've scheduled time for networking, and peer exchange – with crowdsourced topics, and invited guests.
Following lunch (provided), trained facilitator Victoria Steele will lead a Respectful Workplaces Workshop, supported by the Cultural Human Resources Council. In the era of #MeToo, we've all read the headlines: this is your opportunity to position your orchestra as a "respectful workplace", where volunteer and professional musicians work harmoniously and where leaders (whether artistic, board or management) understand their responsibilities, and manage risk effectively. This workshop has been customized for Ontario's smaller budget orchestras. You'll learn:

What constitutes a 'workplace';
Characteristics of a respectful workplace;
How to create and sustain a respectful workplace;
Roles for music directors, management and board members in establishing and maintaining a respectful workplace; and
Discussion of the new Code of Conduct for the Performing Arts.
Tools and tips, including Ontario-specific legislation and website resources, will be highlighted. Please note that this is a facilitated learning session, not a policy development, legal or counselling session.
Post-Workshop Event: Sinfonia Toronto is offering a 40% discount for OC members and their families to attend their Musical Bridges concert at 8pm in George Weston Recital Hall. The program celebrates the power of music to heal historic wounds and the beauty of Canada's multicultural society, with music rooted in traditions from Armenia, Greece, Romania and Turkey.
Offer available online only – discount code provided with registration.
Facilitator: Victoria Steele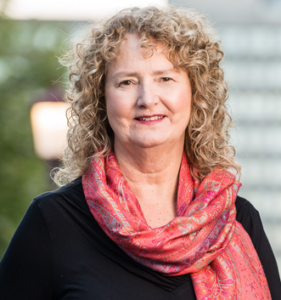 Victoria Steele is a bilingual arts management consultant with over 35 years' experience managing Canadian arts organizations at the local and national level. She works collaboratively with clients, teams, artists and stakeholders to develop strategies, realize innovative projects and mentor careers. Ms. Steele is an experienced facilitator and workshop leader, a member of Arts Consultants Canada and the Canadian Association of Management Consultants and teaches in both the Master's in Arts Leadership program at Queen's University and the Theatre Department at University of Ottawa.
Among her past contributions to the cultural sector, Ms. Steele was Managing Director of English Theatre at the National Arts Centre for 19 years, on the Boards of PACT and CAPACOA, Executive Director of Arts Network Ottawa and General Manager of three Ontario theatres.