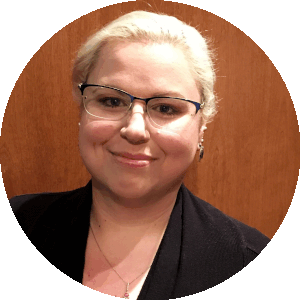 Faith Scholfield
Director of Operations and Artistic Administration / Second Oboe & English Horn, Windsor Symphony Orchestra
Faith Scholfield balances two occasionally conflicting roles at the Windsor Symphony Orchestra – union musician and Director of Operations. Faith plays Second Oboe/English horn with the Windsor Symphony Orchestra (since 2004) and is also currently the WSO's Director of Operations and Artistic Administration (since January 2018).  Previously, Faith was the WSO's Education & Outreach Manager (2011-2018) and was engaged as Interim Director of Operations in recognition of her skills during the WSO's 2013-2014 season.  In addition, Faith has previously worked as the Education Coordinator at the Chamber Music Society of Detroit (2016-2018), and Workshop Coordinator for the AVANTI Summer Music Fest (2013-2017), a summer camp created and run by Musicians of the Detroit Symphony Orchestra while teaching and performing regularly throughout Southwestern Michigan and Southeastern Ontario.
An active CFM member, Faith recently stepped down as Secretary of the Organization of Canadian Symphony Musicians (OCSM), a position she held by election from August 2013 to August 2018.
A student of Nancy Ambrose King, Faith earned a Master of Music Performance Degree in Oboe from the University of Michigan. She acquired her Bachelor of Music in Oboe Performance as well as Performance Certificate in Oboe from the Eastman School of Music, a student of Richard Killmer.